10G/25G SFP Bit Error Rate Tester
10G/25G SFP28 Checker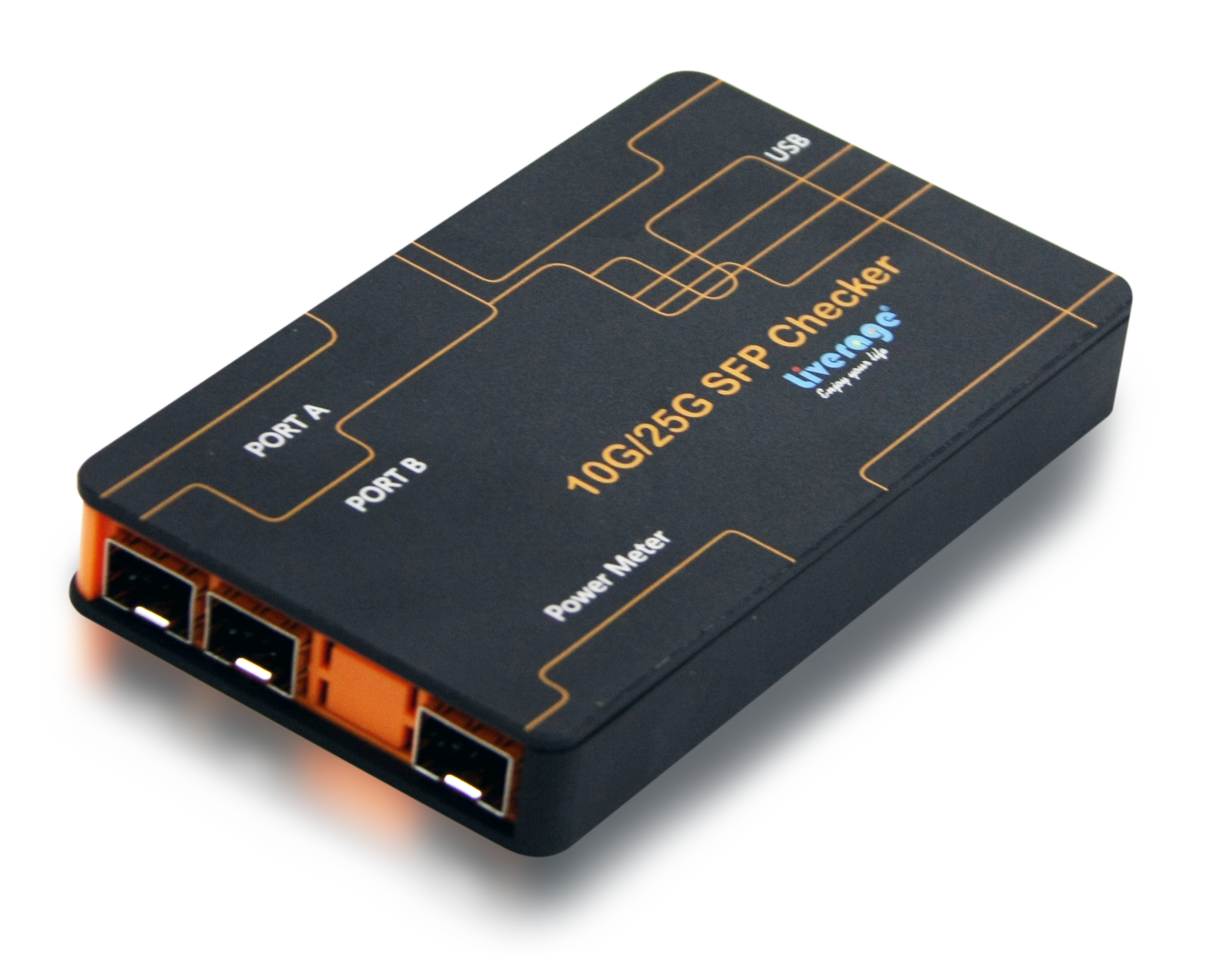 10G SFP+ Checker can measure optical power, read internal memory EEPROM and monitor the DDM information.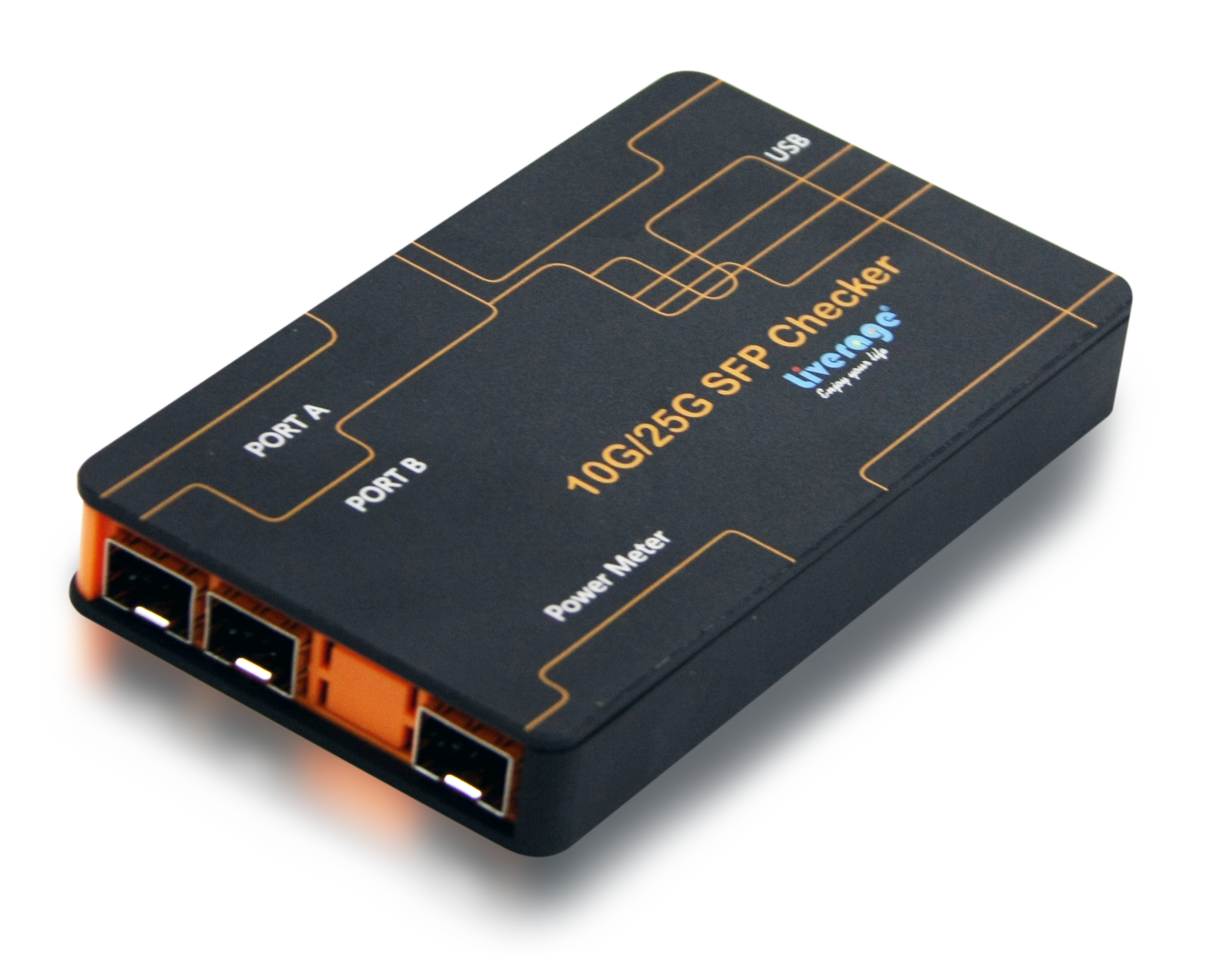 The 10G/25G SFP28 Checker can help you to read the internal memory EEPROM of the SFP+ and displays details EEPROM contents registered into EEPROM such as the part number, vendor name , wavelength, description, and range.

Inserting a DDM SFP+ that is with digital diagnostics, you can monitor all the DDM information with SFP Checker. With optical power meter module, you can measure the actual output power of a SFP transceiver.

The 10G SFP+ Checker is an instrument which combines the Serial Pattern Generator, Bit Error Rate Analyzer, and Optical Power Meter within a compact size for both optical telecommunication and data communication. It provides common transmission rate for 8x Fiber Channel, OC-192, and 10G Ethernet. The optical power can be measured by plugging in an optional optical sensor module.

The friendly graphic user interface (GUI) provides clear monitoring for bit error rate, bit error counter, timer, SFP status, optical power from the sensor module and selection of data rate and PRBS.
Features
1. Pocket size design
2. No warm up time is required
3. Connects to a standard PC / laptop with Windows XP or Win 7 OS via USB connection1 port for duplex LC SFP+
4. SFP Plug-In Module with SC female connector for optical power measurement
5. Automatic wavelength selection based on the EEPROM data from SFP
6. Full function GUI
7. Popular USB connection
Applications
10G/25G SFP transceiver qualification
Confirming proper transmitting and receiving signal levels
Optical transmitting power measurement
Optical reference signal
Bit error rate test
Verifying proper encoding during the manufacturing
Video

10G/25G SFP Bit Error Rate Tester

How to test the 10G 25G AOC by 10G 25G SFP Checker

How to test (10G/25G) optical transceiver by 10G/25G SFP Checker

Related Products

4G SFP Checker

---

The SFP Checker integrated the Bit Error Rate Tester, Optical Power Meter, Digital Diagnostics Monitor for SFF-8472, and EEPROM R/W into a portable pocket size box for the SFP transceiver (Mini-GBIC) which is most popular in optical communication system.It provides the test environment for OC-3 (STM-1), OC-12 (STM-4), OC48 (STM-16), 100base / 1000base , and 1x / 2x / 4x Fiber Channel. Completely setting the test parameters through a friendly Graphical User Interface (GUI) with single USB connector or simply testing the SFP with LED indicators on the top panel of the checker through an USB power bank. An optional power meter module can be installed for optical power measurement and one loopback port for bidirectional transceiver testing.

---

HOT Pet

---

The High-speed Optical Transceiver Power Meter(HOT Pet) is designed for 40 Gbps ~ 100 G optical networking power meters. It can measure 4 channels output power in the optical net work at one time. The memory can record 600 data and data downloaded via USB Connections. The battery can last 6 hours.

---

F41AS17413

---

SFP28 LR 10Km is a SFP with speed rate up to 25Gbps and transmission distance up to 2Km.This series single mode transceiver is a small form factor pluggable module for bi-directional serial optical data communications such as 25G Ethernet and CPRI Option 10. It is with the SFP+ 20-pin connector to allow hot plug capability. Digital diagnostic functions are available via an I2C. This module is designed for single mode fiber and operates at a nominal wavelength of 1310 nm.

---

---

Download

---

10G/25G SFP28 Checker Spec and Operating Instructions.

---

---

Application of SFP28 Checker Ver1.2.1

---

---

USB Driver for 10G&25G SFP CHECKER

---

---
Press Release