100Gbps QSFP28 Bit Error Rate Tester
iBERT X1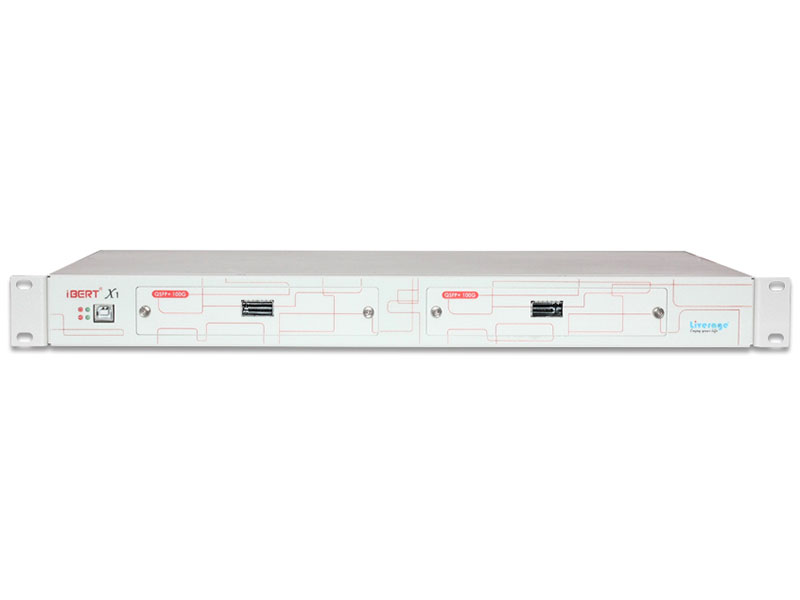 iBERT X1 is a 100Gbps Bit Error Rate Tester (BERT) with modularized interface which includes QSFP28 type connector.
It complies with 100G MSA standards. The QSFP28 port follows QSFP28 MSA. User interface can individually monitor bit error rate, error count and timer via USB cable with PC. The serial ID and Digital Diagnostics Monitor for QSFP28 transceiver can also be monitored in the user interface.
Features
1. 19" rackmount size
2. Standard USB for connecting with PC
3. 100 Gbps QSFP28 interface module
4. Friendly Graphic User Interface (GUI)
Applications
100 Gbps QSFP28 Transceiver Module Qualification.
Video





Related Products

iBERT X1 mini

---

iBERT X1 mini is a bit error rate tester (BERT) designed for 0.1Gbps to 100Gbps AOC measurement. There are two interchangeable slot boards which include QSFP and SFP ports separately. Both QSFP and SFP ports follow QSFP MSA and SFP MSA. The user interface allows you to individually monitor bit error rate, error count and timer by connecting to PC via USB cable. The serial ID and Digital Diagnostics Monitor of transceiver module can also be monitored in the user interface.

---

---

Datasheet

---

Technical specification and operating instructions of iBERT X1.

---

---
Press Release