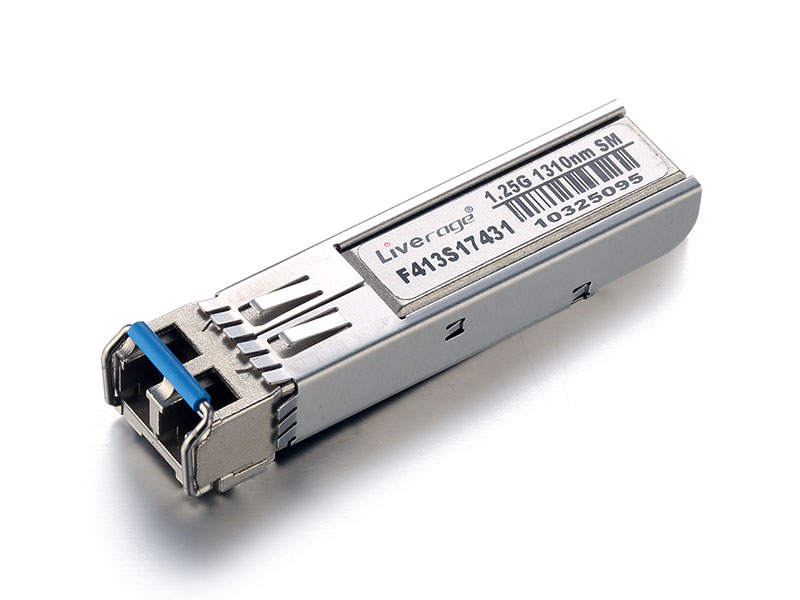 SFP transceiver
SFP Optical Transceiver, Small Form-Factor Pluggable Transceiver
The small form-factor pluggable (SFP) is a compact, hot-pluggable optical module transceiver used for both telecommunication and data communications applications. The form factor and electrical interface are specified by a multi-source agreement (MSA) under the auspices of the Small Form Factor Committee. It is a popular industry format jointly developed and supported by many network component vendors.
---
From SFP 155M to SFP 2.5G
An SFP interface on networking hardware is a modular (plug-and-play) slot for a variable, media-specific transceiver in order to connect a fiber optic cable or sometimes a copper cable. SFP transceivers exist supporting SONET, Gigabit Ethernet, Fibre Channel, and other communications standards. Due to its smaller size, the SFP has replaced the gigabit interface converter (GBIC) in most applications, and is sometimes referred to as a Mini-GBIC by some vendors, but this name is not officially defined in the MSAs.

We can provide SFP 155M series transceiver, SFP 1G series transceiver, SFP 2.5G series transceiver, SFP CWDM series transceiver and SFP CPRI series transceiver.

Regarding different applications we can provide you high-quality SFP Transceivers.Our product is already approved by the U.S.A, Europe, India and China…etc.
Liverage Product Brochure
Liverage the newest product brochure.

Download
SFP transceiver | SFP | Optical Transceiver Manufacturer - Liverage
Liverage Technology Inc., since 2003, is a SFP transceiver | fiber optical components, transceivers and measurement equipment manufacturer based in Taiwan.
Developed CWDM Metro-Access Fiber Optical Network, Passive Optical Networks (PON) and Gigabit Passive Optical Networks (GPON) applications, bi-directional and triplex transceiver modules for the FTTX in radio communication equipment and parts industry.
Liverage has been offering customers high-quality SFP, optical transceivers since 2003, both with advanced technology and 30 years of experience, Liverage ensures each customer's demands are met.