QSFP to 4XSFP+ Active Optical Cable (AOC) Assembly
F84BS4xxx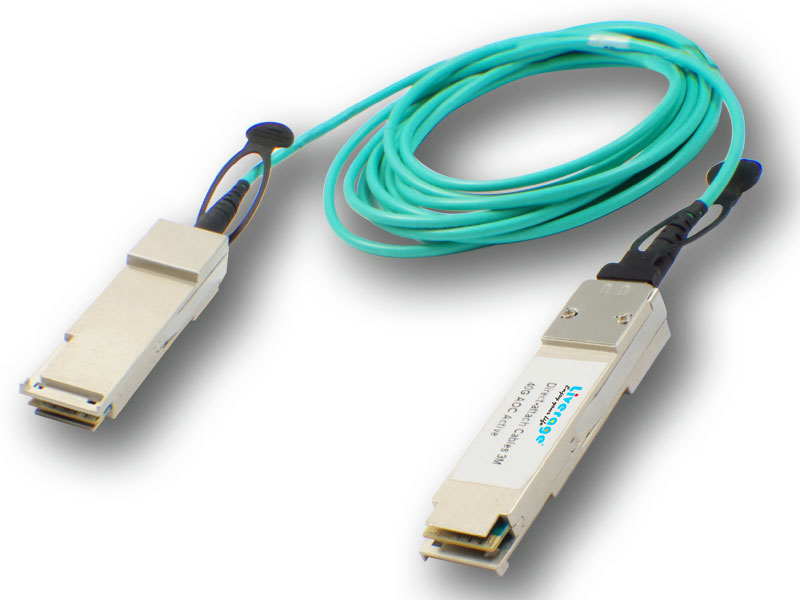 Liverage's Quad Small Form-Factor Pluggable Plus (QSFP+) active optical cable (AOC) is high-performance optical cables with bi-directional signal transmission and aggregate 40-Gbps bandwidth. Compared to conventional copper cables, this AOC product can provide premium benefits including better signal integrity quality, longer cable length up to 100-m, lighter cable weight, and so on.
Features
1. 4-channel bi-directional AOC with aggregate bandwidth of 56-Gbps (Electrical Interface Only).
2. Compliant to SFF-8436 QSFP+ Specification.
3. Supports 40-Gbps & 56 Gbps aggregate data-rate links up to 100 m.
4. Low power consumption of max 1.5 W (Compliant to Power Level 1).
5. Hot pluggable electrical interface.
6. 0 to 70°C case temperature operating range.
7. RoHS-6 Compliant (lead-free).
Applications
40GBASE-SR4 Ethernet links.
Infiniband SDR / DDR / QDR interconnects.
4G / 8G / 10G Fiber Channel.
SATA / SAS Storage.
HPC Interconnects.
Client-side 40G Telecom connections.