10Gbps XFP LC Singlemode LR 10Km Transceiver
F718S17413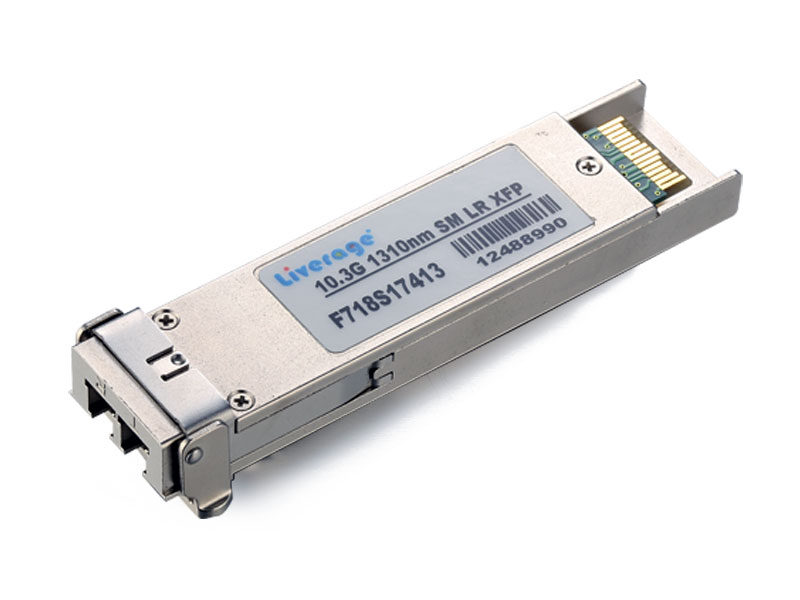 The XFP LR is hot pluggable Transceiver module. It designed expressly for high-speed communication applications that require rates up to 11.3 Gbps and it designed to be compliant with XFP MSA.
The module data transmit to 40Km in 9/125um single mode fiber. The optical output can be disabled by a LVTTL logic high-level input of TX Disable. Loss of signal LOS output is provided to indicate the loss of an input optical signal of receiver.
Features
1. Support multi protocol from 9.95 Gbps to 11.3 Gbps.
2. Hot pluggable 30 pin connector.
3. Compliant with XFP MSA.
4. Transmission distance of 10km over Single mode fiber.
5. 1310nm DFB laser transmitter.
6. Duplex LC connector.
7. 2-wire interface for management and diagnostic monitor.
8. XFI electrical interface with AC coupling.
9. Single power supply voltages : +3.3V
10. Temperature range 0°C to 70°C
11. Power dissipation: <1.5W
12. RoHS Compliant Part.
Applications
10GBASE-LR/LW Ethernet.
SONET OC-192 /SDH.
1200-SM-LL-L 10G Fibre Channel.
Other optical links.
Press Release