12 Channels Optical Test Hub
OTH 4000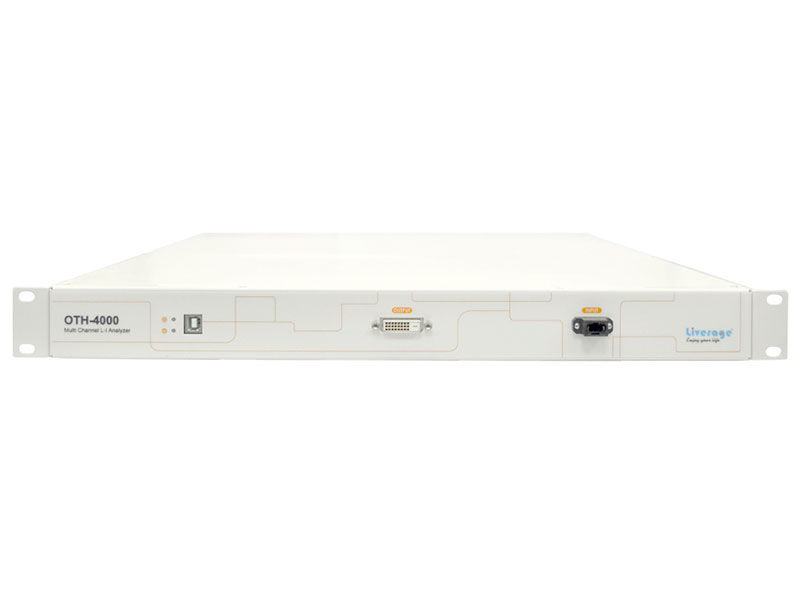 The OTH 4000 is an optical testing instrument which provides 12 channels L-I curve measurement. It is a 12 channels stable current sources and 12 channels optical power meters. The OTH 4000 is ideal for field or laboratory testing of optical emitter and light source.
Features
1. 1U 19" rack mount design
2. LD L-I Curve measurement
3. 12-CH DVI Electrical signals 12-CH MPO
4. USB interface to link PC and with friendly Graph User Interface (GUI)
Applications
Standard laboratory applications.
Active component fabrication.
Lidar system fabrication.
Related Products

OTH 3000 & OTH 300

---

OTH 3000 is an optical testing hub which provides both optical stable light sources and optical power meters. The universal main frame provides up to 36 Channels (OTH-3000), Mini OTH (OTH-300) accordingly for installing power meter or light source module. The optical test hub, OTH 3000 and OTH 300 are ideal for field or laboratory testing of optical network testing by changing the interchangeable module.

---

Light Source

---

Light Source is a handy instrument to provide you several wavelengths for testing the fiber equipment in an optical network and FTTx construction. Light Source is ideal for field or laboratory testing of optical communication systems at 850nm / 1300nm for datacom testing, 1310nm / 1550nm / CWDM 1270nm ~ 1610nm (20nm spans) for all WDM testing , as well as 1490nm for FTTx testing by changing the interchangeable SFP module. Light Source features zero warm up, superb productivity and is easy to use with its pocket-size and rugged handy design.With a LC / SC patch cord, the Light Source can be used for most widespread fiber interfaces such as LC / ST / SC / FC connectors. It is suitable to test both Singlemode and Multimode cables. Internally there is a specially designed power circuit called APC (Auto Power Control). The APC circuit provides continuous power which avoids unstable laser output when the battery is low. The LD output signal can be switched between Continuous Wave (CW) or Pulse Mode 270 Hz / 2 KHz Modulated Mode to simulate signal transmission. There is a dust proof cap which will prevent dirt from getting into the LD connector. The cap also helps avoid accidental exposure to the laser beam into your eyes.

---

---

Download

---
Press Release